TECHNICAL DATA
... EVOLUTION
From traditional datacentre deployments to current market trends in telecommunications, edge computing, cloud, virtualisation, mobile computing, Whitespace have evolved the next generation of modular datacentres.

The Whitespace modular datacentre uses the latest design and construction methods to deliver a low-cost datacentre with up to 250kW technical load per modular, without compromising function or resilience. It provides a very viable alternative to containerised or traditional build solutions.


... DESIGN


Designed to provide a fully-resilient and concurrently-maintainable electrical and mechanical infrastructure, it has two active and independent electrical paths to the racks with 2N switchboards, UPS, PDU's and distribution, N+1 cooling and 2N DCC generators.The Whitespace datacentre is designed around the intermodal (ISO) container footprint for ease of transport. It comprises up to six modules to provide up to 165m² whitespace.


... SPECIFICATION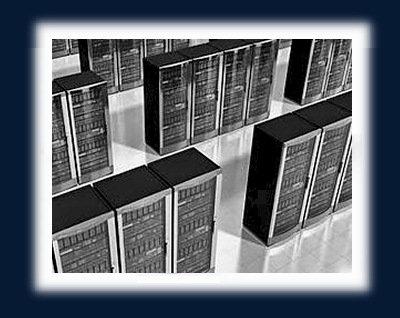 Modules

Each fabricated module dimensionally complies with a 45ft intermodal ISO container for ease of shipment and is designed to provide a completely open-hall technical space with no pillars or restrictions. The fully assembled datacentre is weatherproof and the roof finish has a 25 year design life.

Frames are 100x100x5mm box section. Bases are constructed from 170mm C-section with 100x50x5mm cross members. Floor is hardwood with vinyl antistatic lamination. The outer wall and roof are fabricated from 2.0mm zintec steel plate. The inner skin, walls and ceiling are fabricated from painted 2.0mm steel. 50mm of thermal insulation in the wall and roof cavity, one hour fire rated.

Roof

The roof is an open lattice structure designed to take a distributed load of 5 tons per section, more than adequate for any copper or fibre cabling together with Busbar and any ancillary tray work or bracketry. Above the open structure is a plenum for return air to the cooling units, designed to take either chimney racks or hot aisle containment up to the maximum load of 250kw.

Below the plenum is the lighting system which can be laid out in any reasonable configuration to match the cabinet layout and is included in the design. As the structure is designed to be self-standing, any containment, additional security or environmental sensors can be attached to the roof as required, and modified during the operating life of the facility.

The structure is, of course, waterproof and has the same 25 year life as the rest of the facility.

UPS

3 x 200kVA full double conversion on line UPS. Socomec or Eaton power. Batteries are VRLA (Valve Regulated Lead Acid) as supplied by either Enersys, Fiamm or Yuasa and provide five minute end-of-life autonomy at design load.

Cooling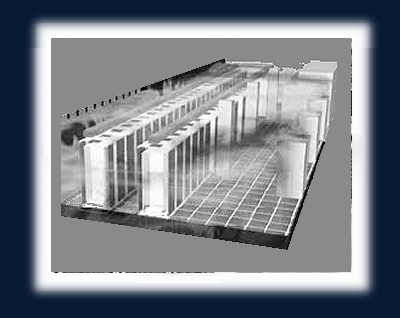 The default cooling system comprises 6 x 50kW Stulz Cyberair air-conditioning units complete with free cooling plenums. The Cyberair units provide indirect fresh air cooling in normal cooling mode with DX cooling backup for when the ambient temperature exceeds 24 degrees Centigrade. Indirect fresh-air cooling provides all the cost-saving benefits of fresh-air cooling without excessive humidity in the data hall. If preferred, adiabatic or DX cooling can be provided.

The heat load and cooling distribution have been independently modelled using Computational Fluid Dynamics (CFD) to ensure even distribution of cooling throughout the whitespace and to ensure optimum energy efficiency.

Standby Generators

Cummins 704kVA DCC rated complete with Day tank and 24hr bulk fuel tank.

Fire Control

Fire detection is provided by a conventional-operation, cross-zoned, co-incidence system as recommended within BS6266. Fire suppression is provided with each module package being supplied complete with an inert gas (IG55) suppression package.

Security

Access control is provided through a proximity reader and Maglock on the main entrance. Secondary and emergency doors fitted with high security crash-bar locks.